Shopping in Eurovea Galleria
The »Eurovea Galleria« is a beautiful shopping center in the area of the old town of Bratislava. It is next to the danube promenade.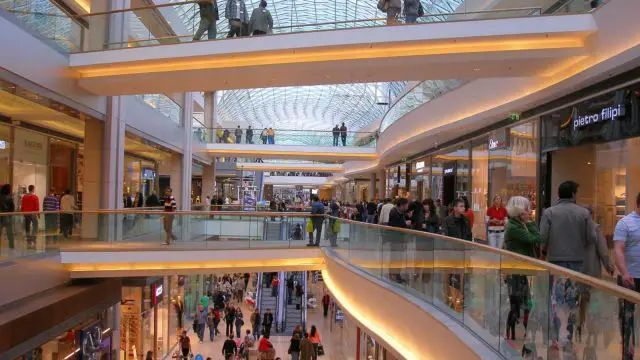 Shopping in the Eurovea Galleria shopping center
Eurovea Galleria is a shopping center that also includes office space. The pure shopping area is around 55,000 square meters. The Eurovea Galleria has 3 floors and an underground car park. Among other things, the shopping center is very popular because the shopping center is located directly on the Danube promenade. Especially the outdoor area in summer is very popular there, because in addition to the Eurovea Galleria also much gastronomy is offered. The back of the shopping center is only accessible on foot, where you can treat yourself in several restaurants a nice afternoon.
Modern shopping center in Bratislava
The beautiful shopping center in Bratislava has also become a popular meeting place in the city due to its location on the beautiful Danube promenade. The Eurovea Galleria used to be called "Pribina Galleria" in Bratislava. The shopping center is also architecturally exciting. Many elements of the architecture have been constructed with glass and these ensure that the shopping center is extremely bright inside.
Facts about the Eurovea Galleria
The Eurovea Galleria shopping center houses about 180 shops. Currently, the shopping center with its first stage of expansion has about 55000 square meters and is therefore certainly the most important attraction in Bratislava in the Old Town when it comes to shopping. There are also several children's stations and around 40 restaurants and bars in the Eurovea Galleria shopping center. The shopping center also has around 1900 parking spaces.
Opening hours Eurovea shopping center Bratislava
Monday: 10:00 - 21:00
Tuesday: 10:00 - 21:00
Wednesday: 10:00 - 21:00
Thursday: 10:00 - 21:00
Friday: 10:00 - 21:00
Saturday: 10:00 - 21:00
Sunday: 10:00 - 21:00
Accessibility of the Eurovea shopping center
The shopping center "Eurovea Galleria" is easily accessible to the public. By tram you can take the lines 1, 3, 4, 6 and 8 and get off at the station "Šafárikovo námestie". The shopping center in the old town of Bratislava is also easily accessible by bus. You can use lines 28, 50, 70, 78, 88, 90 and 133.
Photo: Doko Ing. Mgr. Jozef Kotulič, Own Work, Creative Commons Attribution-Share Alike 3.0 Unported