Train vom Vienna to Prague
The company »Student Agency« starts at December 10 with a new, affordable connection from Vienna to Prague.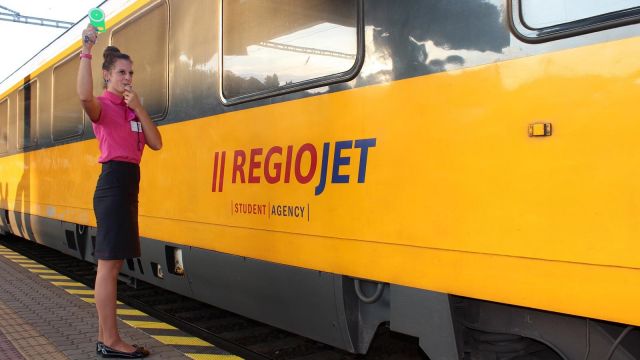 Go from Vienna to Prague by Train
The new, cheap connection from Vienna to Prague is starting at December 10 in 2017. The company RegioJet offers with dynamic pricing tickets from Vienna to Prague starting at 15 Euros. The trains depart from Vienna ealy in the morning, the morning, afternoon and early evening. There are 4 connections every day in the actual schedule.
RegioJet connections to the Centrope Region
You can not only go to Prague with the RegioJet connections, the RegioJet connects all the important cities in the Centrope region. From Vienna you can only go to the Czech Republic, you can drive to Brno or Prague with the train. The trip is about 4 hours to Prague and about one and a half hour to Brno. Trains depart from the Vienna main station at 6:30, 10:30, 14:30 and 18:30 o'clock.
Tickets starting at 15 Euros to Prague
In the »Standard Category« you can go for a minimum of 15 Euros from Vienna to Prague. The tickets are available in the online ticket shop at www.regiojet.com. A reservation is necessary, the online ticket shop also gives you the amount of available seats in every train for your connection.