Cityview from the Bellavista
The name is the program. The most remarkable thing in the »Bellavista« restaurant in Prague is the view in the garden.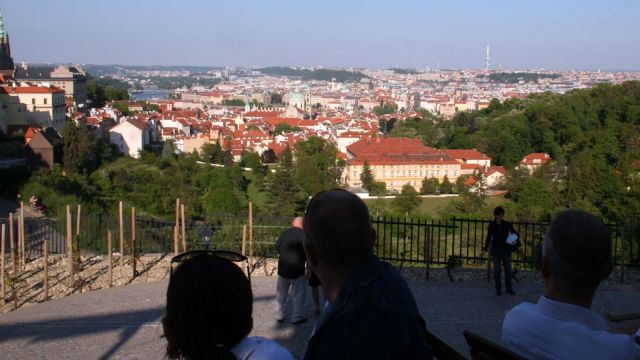 Lovely city view from the guest garden
Anyone traveling in Prague will eventually walk up the hill and discover the »Bellavista« restaurant there. The kitchen is typically Czech. The food is partly hearty, but tasty. The food is not the real feature of the restaurant. Much more is the view from the garden on the city of Prague unique.
The view is also the most important reason to visit the restaurant once. From the guest garden you can look down on the city center of Prague with an excellent Czech beer.
Romantic dinner at Bellavista
If you visit the restaurant Bellavista in the evening in Prague, you can also book a romantic dinner there. On a warm summer's evening, this is definitely an experience. The city shimmers in the lights, the historic buildings are well lit. Prague and its sights also give your romantic dinner with your girlfriend or boyfriend at the Bellavista many special moments.
History of Bellavista
Formerly Bellavsita was known by the Czech name Oživlé dřevo, which means something like "busy forest" or "busy wood". The original interior was designed by artist Alois Chocholáč. The artist Alois Chocholáč became known for his success at the World Expo 1958 in Brussels. From his work comes the original name of the restaurant. The theme was the creative re-experiencing of wood.