Vegetables and fruits: Naschmarkt
About 2.3 hectares space is the »Naschmarkt«. In the actual way it was opened in 1916 and planned by Otto Wagner.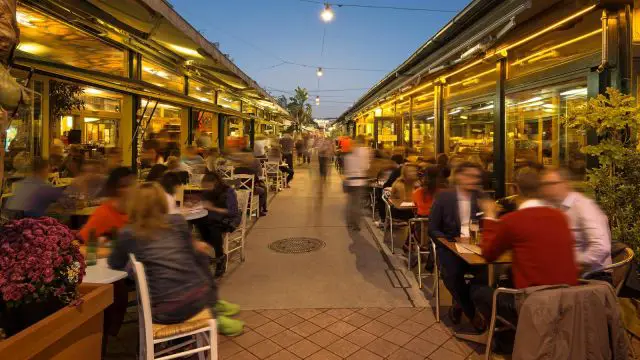 Vegetables and fruits at the Viennese Naschmarkt
It is still not clear where the name »Naschmarkt« came from. Literally it means »Nibble Market« by the way. What is known is the fact that the former »Carinthian Door Market« was formerly referred to by the Viennese as "Aschenmarkt" which is literally »Ashmarket« and was then given the name "Naschmarkt" around 1820. Officially, the market was not named »Naschmarkt« until 1905.
Originally, the market was located on the Freyung in the 1st district. Between the city of Vienna administration and the Scottish Convent in Vienna there was a dispute about htat. Therefore, the market was relocated in 1780 to the region of Operngasse, Wiedner Hauptstraße and Resselgasse and is now in the 4th and 5th district of Vienna.
Fixed market stalls since 1916
In the first major refurbishment phase in the years 1910 to 1916, fixed market stalls were set up at the »Naschmarkt«. Before that, the market stalls were only mixed up with horse-drawn vehicles and could change depending on the market day. Since then, the stands have also been listed as historical monuments and were not significantly changed within the scope of the renovation required after 100 years between 2010 and 2015, but only renovated and renovated.
Opening hours and directions
Opening times Viennese Naschmarkt
The times given here are "maximum frame times" given by the city. The opening times of the individual stands may vary.
Trade: Monday to Friday from 6 to 19.30, Saturday from 6 to 18 clock
Gastronomy: Monday to Saturday from 6 to 23 o'clock
Directions to the Viennese Naschmarkt
The subject of parking is not easy to handle in the region around the Viennese Naschmarkt, so in general the approach with public means of transport can be recommended. In the middle of the Naschmarkt one arrives, if one takes the subway line "U4" and with the station "Kettenbrückengasse" disembarks.