Shoppingcenters in Vienna
Besides traditional stores and the shopping streets there are also some shopping centers and malls in the city of Vienna.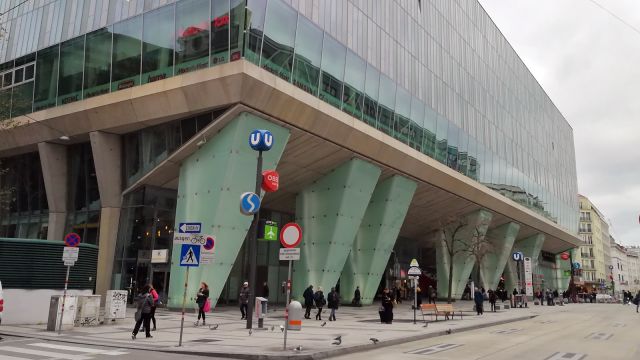 Big Shoppingcenters in Vienna
There are many shoppingcenters in Vienna spread all over the city. The most known shoppingcenters in Vienna are »The Mall«, »Donauzentrum« (Literally »Danube Center«), the »Millennium City«, the »Lugner City« and also the »Gasometer City«. There are also some new shoppingcenters which are located in train stations in Vienna. »The Mall« in the train station Vienna Central is one of them. Others are the »BahnhofCity Wien West« at the West Station and »BahnhofCity Wien Hauptbahnhof« at the main train station of Vienna.
Shoppingcenters along the Vienna Underground Lines
The most of the important and big shopping centers have one thing in common. Not only they all have parking garages for customers who come with a car. All of them are very close or even part of a major station of the Vienna Underground. So, if you want to go shopping to a shoppingcenter in Vienna you can also go with the underground lines of the »Wiener Linien«.
As stated some of these shoppingcenters are even in the same building as the train stations. In former times these train stations were only train stations and hat just a few little shops. Within the last years this changed and there grew shoppingcenters at the most major train stations in Vienna. The reason for that is special: Austria has a restrictive law on shop opening times. But there is an exception for shops who supply travel goods. At the train stations the companys of the shoppingcenters could take better opening hours and open up even on sunday. On this day some shops are closed. And also in some shops some products are locked behind lattice, because some products are not allowed to be sold on sunday.
Most important and well known shoppingcenters in Vienna
Donauzentrum (Literally: »Danube Center«)
Wien Mitte »The Mall«
BahnhofCity Wien West (Literally: »Trainstation City Vienna West«)
BahnhofCity Wien Hauptbahnhof (Literally: »Trainstation City Vienna Main Station«)
Lugner City
Millennium City
Gasometer City