Danube Center Shopping Mall
The traditional shopping center in the north of Vienna, the »Danube Center« has an incredible diversity of shopping opportunities.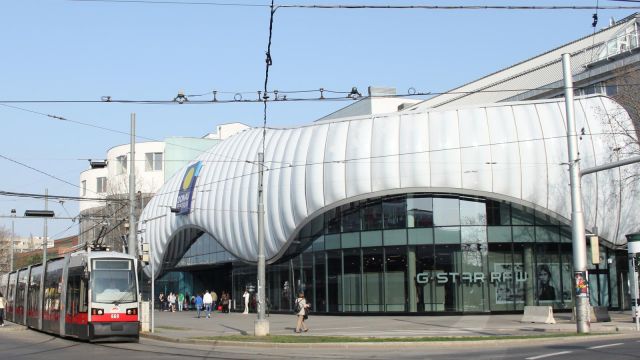 Shopping Center »Donau Zentrum« on the underground line U1
The »Donau Zentrum« (Literally »Danube Center«) is easily reachable from the city center using the metro line "U1". It goes to the station "Kagran" with the subway and right there next to it is the shopping center. Until a few years ago, the name "Donau Zentrum" was still written together in one word. The Danube Center was opened in 1975. Today it has a sales area of ​​more than 100,000 square meters and several hundred shops as well as catering establishments.
Largest shopping center in Vienna
With hundreds of shops and restaurants, the Danube Center is also the largest shopping center within the city of Vienna, thanks to the total area with the entertainment area called DX (Donau Plex). In addition to the shopping facilities, the Danube center with the connected Donau Plex entertainment area and the cinema has also become a meeting place in the region. For the district Donaustadt, it is the 22nd district of Vienna, the Danube center is a local provider as well as a entertainment venue.
Facts about the Danube Center
As already written above, the Donauzentrum is the largest shopping center within the city of Vienna, with almost 300 shops and numerous catering establishments. In addition, the Danube Plex is an entertainment center with a large cinema in the area of ​​the Danube center. The company has been managed for several years by the Dutch group Unibail Rodamco. Among other things, this group manages Austria's largest shopping center just outside Vienna, the Shopping City Süd (SCS).
Opening hours Donau Zentrum
Monday: 09:00 - 20:00
Tuesday: 09:00 - 20:00
Wednesday: 09:00 - 20:00
Thursday: 09:00 - 20:00
Friday: 09:00 - 20:00
Saturday: 09:00 - 18:00
Sunday: Closed
Opening hours Danube Plex entertainment center
Monday: 11:00 - 01:00
Tuesday: 11:00 - 01:00
Wednesday: 11:00 - 01:00
Thursday: 11:00 - 01:00
Friday: 11:00 - 03:00
Saturday: 11:00 - 03:00
Sunday: 11:00 - 01:00
Public accessibility of the Danube center
Subway line "U1", station "Kagran"
Tram line "25"
Parking by car in the Danube center
The Danube center also has several parking garages. Parkhaus 2 opposite the underground and Parkhaus 4 in the Donau Plex are open 24 hours a day, from 0:00 to 24:00. The other car parks have limited opening hours, which are also based on the opening hours of the shops.
Image: darkweasel94 - Own Work, Attribution, Link