Shopping in Mariahilfer Street
Looking for the biggest shopping street in Vienna? You are right then at Mariahilfer Street, it is the longest one in Austria.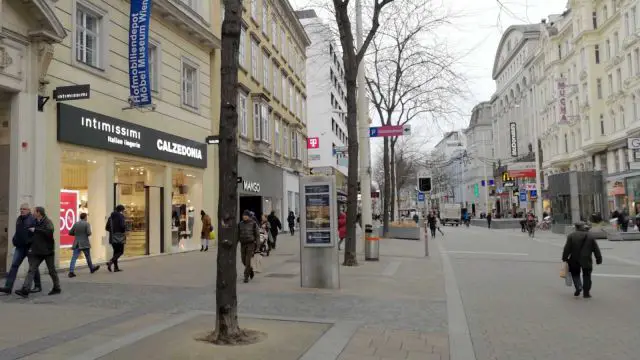 Strolling and Shopping on Mariahilfer Street
Locals call the Street »Mahü«, this is just an abbreviation of »Mariahilfer Straße«. The longest and largest shopping mile in the whole country of Austria is next to the 6th district of Vienna. The name of the district: Mariahilf. Find hunderts of shops on that street which is 1.8 kilometers long. The more interesting part for shopping is certainly the inner part of the Mariahilfer Street starting next to the Museums Quarter and ending at the Western Railway Station. The outer part of the street has also shopping offers, but the focus is on the inner part next to the city center of Vienna.
On the south side of the Western Railway Station in Vienna the Mariahilfer Street continues in direction outbound. If you want to visit the Mariahilfer Street, just go there best by public transport. The underground U3 brings you there, you can use the stations »Neubaugasse« or »Zieglergasse« of the U3 underground line. It is only a few minutes from the city center to go there.
The Mariahilfer Street seperates the 6th and the 7th district of the city of Vienna. Both districts are also well known for creative fashion and concept stores. Most of the more creative shops are in the streets aside the Mariahilfer Street. That is because the rents for shopping areas on the Mariahilfer Street are very high. So you will see there more international brands and chains rather than local creative shops.
Fashion and more...
A few years ago the Mariahilfer Street was refurbished. The area was made as a kind of a meeting zone. This means a less strict pedestrian zone. So, most people walk there, but you can also drive down Mariahilfer Street by bike or use a car for some parts of the street. But you are forced to drive very slowly, because it is not a classic street. And the parking spaces are pretty reduced. So the best way to go there is not by car!
Gerngross Shopping Mall
On the Mariahilfer Street there are also some shopping centers. One of them, quite well known in Vienna, is the Gerngross Shopping Mall. This is very close to the underground station of »Neubaugasse«. You can perfectly reach it with the underground line U3 in Vienna. Just a few minutes ride from the city center. There are also many shops inside the shopping mall, like a store of electronics or a classic supermarket with food and beverages.
Have a look to the side...
Around the Marihilfer Street there are quite many shops. On the street itself you will find fashion chains and international and national brands as well as some shopping centers. But if you search for some lokal brands and interesting fashion stores or concept stores, you might find these in the streets aside the Mariahilfer Street. The streets to remember are:
Neubaugasse
Kirchengasse
Lindengasse
Stiftsgasse
Siebensterngasse
Westbahnstraße