Historic: The Vienna Ring Tram
It used to be Lines 1 and 2 a few years ago that rounded the first district on the boulevard - the Vienna Ring. But now...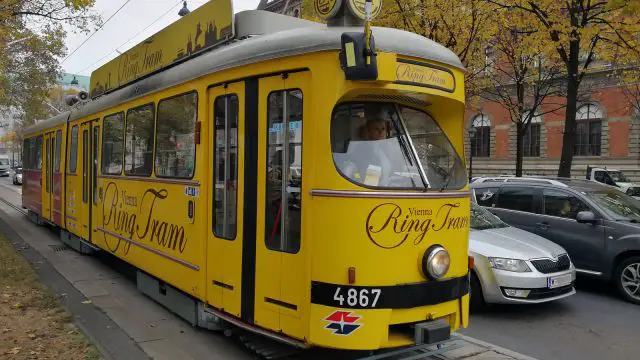 Historic tram around the city center of Vienna
A few years ago, tram lines 1 and 2 were driving in opposite directions around the Vienna Ring. After a new setup of the lines, these two routes were relocated. Both trams still lead via the ring and Franz-Josefs-Kai in the area of ​​Schwedenplatz. However, neither of the two lines moves anymore in a circle around the first district which is also known as the historic center of Vienna.
Alternative route around the Vienna Ring
As an alternative, Wiener Linien created the historic Vienna Ring Tram. A historic tramcar in yellow color. This tram line uses the remaining section of tram rails around the first district. Within a short time, you will experience the most famous boulevard in the city of Vienna. From the Schwedenplatz the Ring-Tram leads down to the Schwarzenbergplatz via the Museum of Applied Arts (MAK). Afterwards one passes with the Viennese ring tram the opera in order to drive afterwards further past the Hofburg. The Hofburg is the seat of the President of the Republic. There is also the Spanish Riding School.
The route then continues over the parliament and finally past the town hall and the Burgtheater. Then it goes over the university and past the Vienna Stock Exchange back to Schwedenplatz.
Eight languages ​​and Viennese dialect
With the help of an audio guide you can experience the ride and all the main attractions that can be seen there in other languages ​​as well. In addition to German and English, other foreign languages ​​are available. Particularly popular with the audience is the version "Viennese dialect". This was spoken by the actor Karl Merkatz on tape. He is on television for his epic role as "Mundl" vulgo "Edmund Sackbauer" in the TV series "A true Viennese does not go down." known.
Entry and exit only at Schwedenplatz
A ride on the Vienna Ring Tram takes about half an hour. The Vienna Ring Tram has only one stop on its way. Starting and ending point of the trip is always at the tram stop at Schwedenplatz. The train runs from 10:00 to 17:30 every thirty minutes.
Tickets for the Vienna Ring Tram
First departure: 10:00
Last departure: 17:30
Further departures: Always at full and half hour (10:30, 11:00, 11:30, 12:00 ... 17:30)
Tickets can be purchased directly on the train or on the website of the "Wiener Linien" (Vienna Public Transport Authority): www.wienerlinien.at
Prices according to price list 2017
This information could be subject to change.
Adult ticket: 9,- Euros
Junior ticket for persons under 15 years of age: 4,- Euros