Dogs? Use a Poop Bag
It is usual in many cities around the world. And so it is in Vienna. If you have a dog with you, you take care of the poop.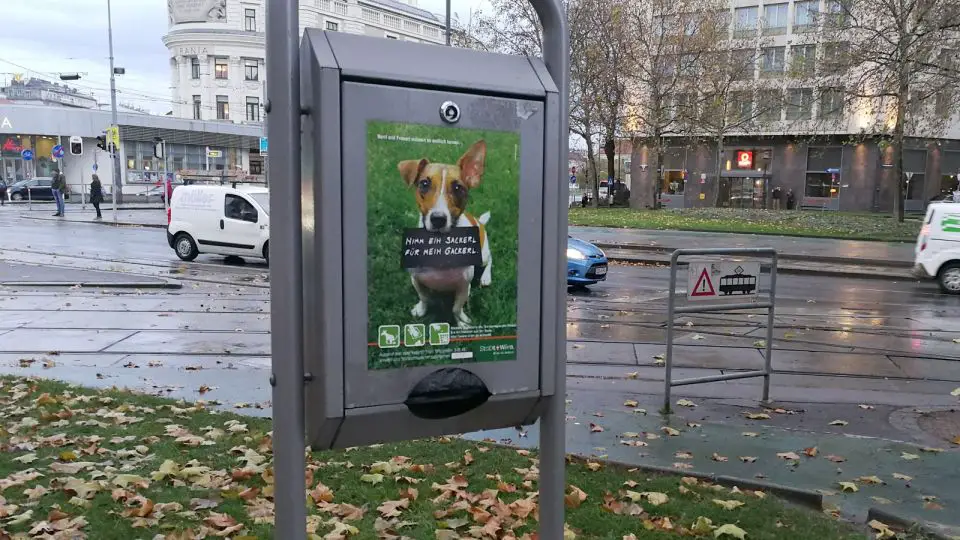 Do not let Poop on the Road
The rule is simple. Who is on the way with a dog in Vienna has to take care about the dogs poop. It does not matter if your dog does it in front of a store, on the street, on the sidewalk or on the lawn in a park. The dog owner or the person who walks around with the dog has to put it away.
A Bag for the Poop...
The dog is not able to do it himself. So the owner of the dog is in charge and unmistakable responsible for the removal of the dog poop. If you do not keep the city clean and leave the poop of your dog behind you on the road or lawn, there is even a fine for that. The penalty is around 50 euros. Not only officials of the city are looking for you, if you leave your dog poop behind you. It could also happen that you are stopped therefore by the police. Most of the time you will not be fined, but they wait for you to take the dog poop away.
Dispensers for Poop Bags all over Vienna
There is no excuse for not taking away the dog poop in Vienna. Of course you can buy the poop bags in different stores, especially pet shops and stores. But the city council of Vienna also covers the whole city with more than 3000 free dispensers for poop bags. There is even a special digital city map where you can have a look and find the nearest dispenser of a poop bag around you.
In addition there is even a phone hotline you can call if the dispenser is empty or broken.
Use of a Poop Bag
It seems simple but still, some people are unsure about the use of a poop bag. Especially people coming from areas where they are not common, have difficulties to use it. So here is a little explanation:
Open the empty poop bag and put your hand in it.
Now the poop bag is like a glove for your hand.
Grab the poop now with this glove.
Wrap the glove around, so the dog poop is not outside but inside the bag
Close the poop bag and knot it.
Put the closed poop bag with the poop inside into a garbage bin
There are thousands of garbage bins in the city, you will find one within a few seconds or minutes. There is even a little explanation with icons on everyone of the thousands of poop bag dispensers. This also explains the use of a poop bag. It can be seen in the second picture here.
Link: City Map for Dog Owners with Poop Bag dispensers (Violet Icons)