Italian Flair in the City of Vienna
A nice little bar and vinery opened up in the citycenter of Vienna in April 2018. »Civediamo« (literally "We will see us" or "See you soon") is the name of the place.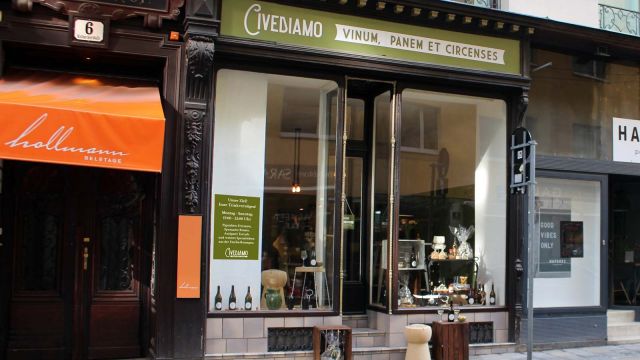 Italian Specials in the Citycenter of Vienna
The little bar and vinery has not many seating places, but therefore it spreads even more an italian flair for it's guests. The vinery is in the citycenter of Vienna in a small street off the main tourist paths. The Köllnerhofgasse connects the Lugeck with the Fleischmarkt. Civediamo has a variety of products. Most of them are specialities from the origin of the Colli Bolognesi, the hills and vineyards south of the italian city of Bologna.
Pignoletto Frizzante and Spumante Rosato
Many of the products the Civediamo bar offers are normally unavailable in Vienna and also in Austria. The feature products of Civediamo are the »Pignoletto Frizzante DOCG« and the »Spumante Rosato«. The Pignoletto tribe is a special varietal coming from the region around Bologna in the federal state of Emilia-Romagna in Italy. The Emilia-Romagna itself is known as the kitchen of Italy. No surpise that the products are special there. Civediamo has not only the Frizzante edition of the Pignoetto but also classical white wine of the Pignoletto varietal. The Pignoletto Frizzante is dry and not sweet and is produced by an equal method like Champaign in France. This is why the drink is really refeshing.
Also the »Spumante Rosato« is a rose sparkling wine. The main varietal in the Spumante Rosato is the Fantini varietal. This varietal is also special for the region south of Bologna. There is also for the Fantini varietal a red wine available in the Civediamo bar and shop. Both products won't be found in Vienna or Austria at the time.
Piadina and Tigelle as warm Snacks
Civediamo cares also about little hunger with warm and cold snacks. Besides the classic antipasti-plates typically for Italy, the bar offers also Piadine and Tigelle as warm snacks filled either piquant or sweet. This makes the little italian flair bar and vinery a perfect place to take a break. The bar is located in the Köllnerhofgasse. The small street off the paths connects the Lugeck and the Fleischmarkt in the first district in the citycenter of Vienna.
When you try a antipasti plate at Civediamo it is strongly recommended to try out also a few drops of the »Saba di Pignoletto« on your cheese parts, because this is also a speciality from the region around Bologna in Italy. Give your cheese a very special taste.
Opening Hours of Civediamo
Monday: 16:00 - 22:00
Thuesday: 16:00 - 22:00
Wednesday: 16:00 - 22:00
Thursday: 16:00 - 22:00
Friday: 16:00 - 22:00
Saturday: 16:00 - 22:00
Sunday: Closed