Christmas Village Old General Hospital
The Christmas Village in the old AKH in the 8th district of Vienna is an attractive place for thousands of visitors every year.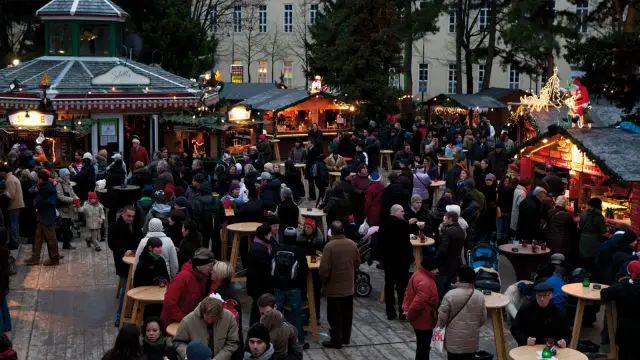 Christmas village in the »Old AKH«
The Christmas village on the grounds of the former General Hospital (AKH) in Vienna is once again a meeting place for Viennese and guests. The Christmas market offers about 60 market stalls and a comprehensive program. The supporting program ranges from attractions for children to shows and music. There is also the Perchtenlauf at the Christmas market. The atmosphere is rather quaint and looks like a village with alpine huts.
Ice rink for athletes
Anyone at the Christmas Market in the »Alte AKH« (Literally »Old General Hospital«) not only offers numerous mulled wine stalls and punch and a lot of culinary art. At the Christmas market is also a separate area for curling or Ice stock sport. There you can also be a little sporty besides drinking mulled wine or punch.
Detailed children's program
The Christmas market in the old AKH is also known for the detailed children's program. Some fixed attractions such as a ferris wheel or a train, which can also be seen in the picture, are available for the children. But there is also a big program for the children with performances by Kasperl and other performances.
Facts about the Christmas village in the old AKH
Optimal accessibility: tram lines 5, 33, 42 and 43, stop "Lange Gasse"
Website: www.weihnachtsmarkt.at
Admission free
Dogs: Forbidden
Parking is limited in the area, but there is a parking garage that can be used. The parking lot itself is provided in many areas for the local residents and may not be used by foreign guests. Special information can be found in the section "Public Transport" in Vienna on this website.
Opening hours 2018
First day of the Christmas market: November 17th
Last day of the Christmas market: December 23rd
Monday: 15:00 - 22:00
Tuesday: 15:00 - 22:00
Wednesday: 15:00 - 22:00
Thursday: 15:00 - 22:00
Friday: 15:00 - 22:00
Saturday: 12:00 - 22:00
Sunday: 12:00 - 21:00
December 8: 12:00 - 22:00
Link: Christmas Market »Old General Hospital« on the Map
Photos: © MAGMAG events & promotion GmbH