Christmas World Rathausplatz
The place in front of the City Hall in Vienna is one of the best frequented christmas markets in the city during this magic time.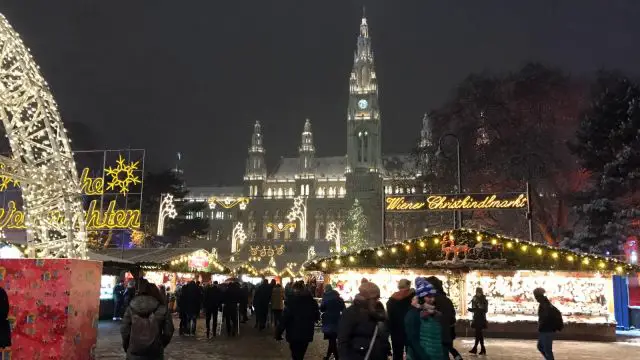 Vienna Christmas Dream...
The christmas market is known as »Vienna Christmas Dream«. It happens at the »Rathausplatz« (Literally: City Hall Place) in front of the Vienna City Hall, where the viennese government is located. There are more than 150 market stalls on the whole area of the christmas market. The offer ranges from crafts and art to punch and mulled wine.
Music Program and Entertainment at the Vienna Christmas Dream
Naturally, the Vienna Christmas Dream also offers a comprehensive music program and a lot of entertainment. A separate children's program is offered. With its huge offer, the »Wiener Weihnächstraum« (Literally »Viennese Christmas Dream«) is certainly one of the very large squares where every year thousands of Viennese and also guests in the city cavort. In the evening, there is so much going on that you have to crowd your way through the crowds, but the mood is definitely on this Christmas market
Ice rink until January
Under the title "Wiener Eistraum", a 3,000 square meter skating rink will be offered on the grounds of the Christmas market. There you can go skating for free. If you have no equipment, you can also rent ice skates for a small fee at the Vienna Ice Dream. Ice skating can be there to pop music and rock music. The skating rink can still be used until the end of the Christmas market until January.
Facts about the Viennese Christmas dream
Optimal accessibility: subway line "U2", station "Rathaus"
Website: www.wienerweihnachtstraum.at
Dogs: Allowed, muzzle and leash mandatory
Opening hours 2018
First day of the Christmas market: November 16th
Last day of the Christmas market: December 26th
Monday: 10:00 - 21:30
Tuesday: 10:00 - 21:30
Wednesday: 10:00 - 21:30
Thursday: 10:00 - 21:30
Friday: 10:00 - 22:00
Saturday: 10:00 - 22:00
Sunday: 10:00 - 21:30
December 24: 10:00 - 18:00
December 25th: 11:00 - 21:30
December 26th: 11:00 - 21:30