Christmas village Maria-Theresia
The Christmas village on Maria-Theresien-Platz has an imperial backdrop to offer: between the great museums in Vienna.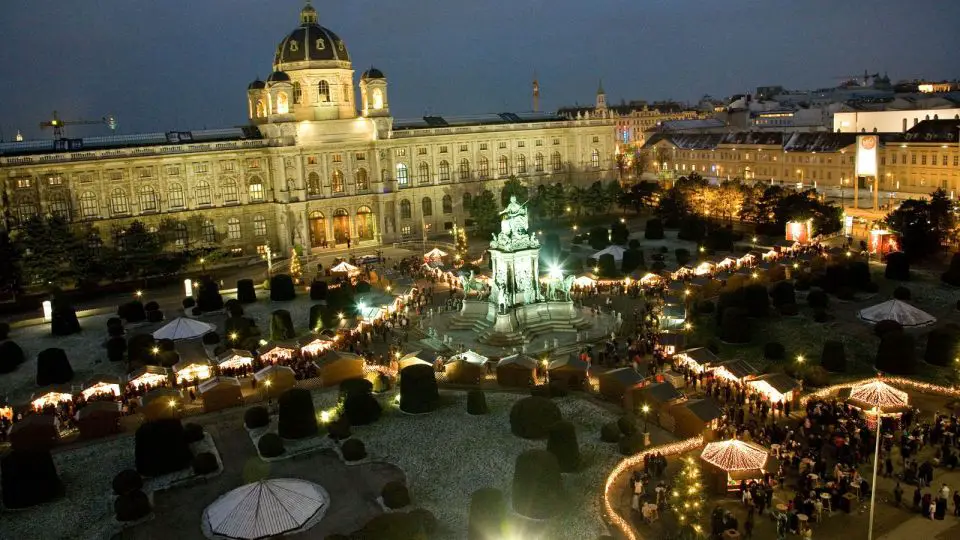 Between the Museums of Art-History and Natural-History
Nestled between the museusm of art history and nature history in Vienna, the Christmas village on Maria-Theresien-Place in the Austrian capital opens every year. The magnificent park offers an incomparable setting for the Christmas village. The Christmas market on Maria Theresien-Place is designed in the form of a cross. This Christmas market is organized around the Maria Theresa monument.
The monument commemorates the Empress Maria Theresa. She was the wife of Emperor Franz I. Stephan of Lorraine. When she became a widow in 1765, she governed the monarchy of the Habsburgs in the years 1740-1780. The empress became famous for numerous reforms in the 18th century. Among other things, she carried out a state reform and an army reform. But Empress Maria Theresia is especially well-known to the Austrians for educational reform. Because Empress Maria Theresa regulated the education by a Plficht to the lessons. Thus she was the initiator of compulsory education. Today, most Austrians associate this step in education policy with their name.
Christmas village between the museums
The Christmas market between the large museums, the museusm of Art History and Natural History offers space for thousands of guests every year during the Christmas season. Unusual ideas for gifts and traditional crafts are offered at the Christmas market as well as the usual culinary supply of small dishes and also punch and mulled wine.
Continuation as New Year's Eve Village
Even after the Christmas holidays, there is still activity at the Christmas market on the Maria-Theresien-Platz in Vienna. For the first time in 2013, the market was part of the New Year's Eve party in the Austrian capital as part of the New Year's Eve path in Vienna.
Facts about the Christmas village on the Maria-Theresien-Place
Optimal accessibility: subway line "U2", station "Museumsquartier", subway line "U2" and "U3", station "Volkstheater"
Admission free
Website: www.weihnachtsmarkt.at
Opening hours 2018
First day of the Christmas market: November 21st
Last day of the Christmas market: December 26th
Monday: 11:00 - 21:00
Tuesday: 11:00 - 21:00
Wednesday: 11:00 - 21:00
Thursday: 11:00 - 21:00
Friday: 11:00 - 22:00
Saturday: 11:00 - 22:00
Sunday: 11:00 - 21:00
December 24: 11:00 - 16:00
December 25: 11:00 - 19:00
December 26: 11:00 - 19:00
Pictures: © MAGMAG Events & Promotion GmbH