Vacation with Dog in Vienna
Want to spend your vacation in Vienna with your dog? You are welcome, but there are things to know for your stay.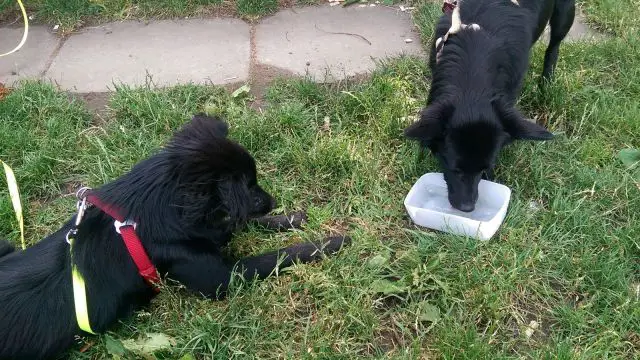 Being Guest with a Dog in Vienna
Many people do not want to miss their dog during a vacation or a holiday weekend. Especially if you are coming from the »Centrope Region« which covers Hungary, Slovakia, Czech Republic and Austria, you are not dependent on going by plane. This is the reason why more and more people bring their fourlegged friend with them for a holiday in Vienna. Many tourists are attended by their dog when going sightseeing in the city of Vienna.
In general you can expect that it is not allowed to bring a dog to a cultural sight like a museum or a theatre. This is not different in Vienna compared to other countries or cities around the world. So pay attention to the hotel you are booking for your stay in Vienna. Have a look for a dog friendly hotel, so you can leave your dog in your room for a few hours while going to a museum or to the opera house.
But if you are just visiting the city and want to walk around and enjoy the scenery, your dog is a great companion for your stay. You can go to most restaurants with your dog. You can also go into the normal shops with your dog. Only at bakerys or butchers or in supermarkets your dog will not be allowed. Most of these shops have little places at the front door with a hook where you can fix your dog for a few minutes.
Who is on the way with a little nice dog, like in the picture above, will be pretty welcome in Vienna. If you have a big and dangerous looking dog, the people in Vienna might not be very welcoming you. This of course has to do with fear from the dogs. However you should mention a few important rules when visiting Vienna with a dog.
Rules for Dogs in the City of Vienna
A dog in the city must either be kept on a leash or carry a bite basket. In areas where many people are close together, dogs must carry a muzzle. This applies, for example, in busses and trams but also on big events. Maybe if you are visting a big event like an open-air concert, you will not be allowed to take a dog with you.
Important: Special Licence for Dog Handlers
A special licence which is called »Hundeführschein« (Literally: »Dog Driving Licence«) is necessary if you carry a so called listed dog with you. This is depending on the breed of the dog. You can get this licence from the City of Vienna but you have to pass a test there. Of course it is not practically for tourists in Vienna to pass a test a the city council. Simple solution: You always have to use a muzzle with your dog, when it is a listed dog when you are in public.
List of the dog breeds where you need a muzzle or a licence
Bullterrier
Staffordshire Bullterrier
American Saffordshire Terrier
Mastino Napoletano
Mastin Espanol
Fila Brasileiro
Tosa Inu
Pitbullterrier
Rottweiler
Dogo Argentino
Your dog is also on the list, if it is a crossing between some of the breeds mentioned above. Being in the public area includes also trams, busses, restaurants and bars and many other places.
Always Remove Dog Poop
You are not allowed to leave dog poop on the street or in any other public space. This is also valid for lawn areas. You have to remove the dog poop there. If you do not, there will be a fine. The penalty for leaving dog poop in Vienna is about 50 euros. To remove a dog poop you take a poop bag. You can buy these in some shops. But to raise the amount of people keeping the city tidy, the city of Vienna also set up many dispensers for poop bags where you can take them for free.
More about poop bags is to be found in this article.
Dog Zones and Freewheeling Zones
To make it easiere for dog owners in the city, there are many zones. This also has the intention to reduce conflicts between dog owners and people who do not like dogs. Many of these dog zones are fenced. You are allowed to leave your dog without a leash inside these zones. Of course you should take care, that there are not other conflicts, because you and your dog will not be alone in the zone.